Cornflower is a plant native to Asia and Europe that grew wild in wheat fields. Here I share the Legend of the Cornflower.
Legend of the Cornflower
One of the legends of ancient Rome tells about the young and handsome Cyanus, who loved the color blue and died unexpectedly. He was found among the grain field. The goddess Flora, greatly revered by the young man during his life, turned him into a blue cornflower. Since then the flower and color began to be called cyanus – blue.

I encourage you to grow these beautiful flowers. Having and enjoying blue flowers in your garden is a source of pride, we do not have many flowers of this color.
Another legend tells us the story of Queen Louise of Prussia, who was a beautiful lady of great value. Emperor Napoleon the Great invaded his country and took over it, oppressing the people, but the queen fought bravely against the invader.
However, in the end, the enemy took the capital (Berlin), and the queen, after many hardships, was able to escape with her children, and hid in a field covered with cornflowers. The children, frightened, began to cry. Then Queen Luisa, fearing that someone would hear them and discover them, took some of those little blue flowers and, making wreaths and branches with them for the little princes, managed to distract them from their sorrow.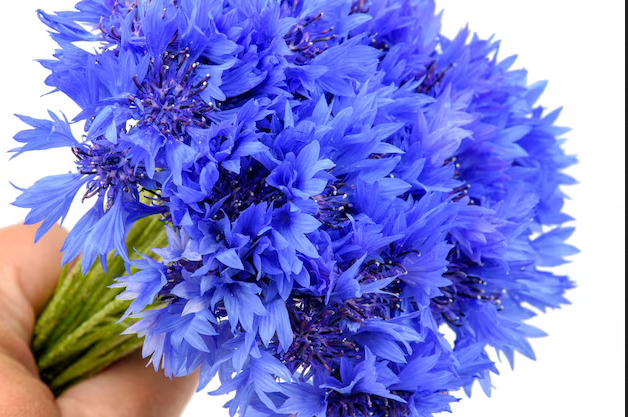 One of them was called William, and some years later he defeated Napoleon's nephew. Proclaimed the first emperor of Germany, he took the cornflower as his symbol. The Cornflower was the national flower of Germany until 2017.
If you want to know a little more about this beautiful blue flower, we recommend the article Cornflower, characteristics, care and uses.
If you liked it, share on your social networks. I await your recommendations in the comments.