The butterfly, National Flower of Cuba
The butterfly, National Flower of Cuba
If you ask them what are the symbols that represent your country, surely you would think of the Anthem, the flag, the shield … However, the countries also have a flower that represents them, called National Flower. Today we are going to start a series of articles about these flowers. I'm Cuban, so I could not start with anything other than our "The butterfly".
Its scientific name is Hedychium coronarium. It is a plant with beautiful white flowers very perfumed. Its generic name, Hedychium, means fragrant snow.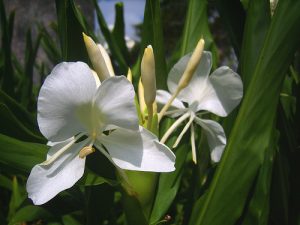 Despite being the National Flower of Cuba, it is not native to this country, but to tropical East Asia, in the mountainous regions of India and Nepal. It has also become spontaneous in Brazil and in Hawaii.
En Cuba es muy común desde el siglo XIX en los jardines y patios. Además las podemos encontrar en lugares silvestres con suelos húmedos, como en las orillas de arroyos o ríos. Es muy apreciada desde entonces por las mujeres, pues con ellas se adornaban y perfumaban.
Choice as National Flower
In 1936 Cuba received an invitation from the Garden of Peace, from the city of La Plata, Argentina, to send its National Symbol Flower. At that time Cuba had not yet chosen the flower that represented us, so a commission was appointed to study and determine what that flower would be.
The selection process was in charge of the Ministry of Agriculture, which formed a tribunal in which prestigious botanists of the time participated. Naturalists analyzed and discussed the characteristics of various flowers such as Water Hyacinth, Night Galan, Lily of San Juan and White Butterfly. By means of secret ballot, the participants of the vote chose by a majority, with 52 points, the Butterfly. Night Galan reached 49 points, the Water Hyacinth 39, the Lily of San Juan 35, the Aguinaldo 32 and finally the Garbancillo with 24 points.
For the decision of this flower, several elements were taken into account. Among them are: his crown, extraordinarily white, symbolized "the love that Cubans feel for peace". Besides its great popularity, and during the independence wars, its intricate branches were used by women patriots to hide important clandestine messages. They also used to wear it on their blouses as a testimony of rebellion against Spanish colonialism.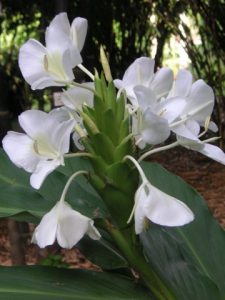 It was selected as a national flower on October 13, 1936.
In Buenos Aires it was planted in an International Garden to represent Cuba, along with the rest of the national flowers.
In Hawaii, it is widely used for beauty treatments. The juice of the mature seeds of the plant has embellishing qualities for the skin and hair.
For the cultivation of the Butterfly we must take into account:
• Have it where it has good lighting and some direct sunlight daily.
• Plant it in humid places of good soil or it can also be grown in large pots.
• Its reproduction is by division of the rhizomes at the beginning of spring, or by its seeds.
This flower is very abundant in times of rain, and can grow up to six feet in height. It is a characteristic element of the Cuban landscape.
The butterfly is used in bouquets of brides, the altars of the saints and in offerings to the deceased. It is undoubtedly a flower that we would all like to have in our garden, to enjoy its fragrance and beauty. I love them, that's why I always have them close to my heart. ?
Remember to like and share on your social networks if you liked this article. Leave us your comments here.