Frangipani, a beautiful and exotic flower with an exquisite aroma
Hello, lovers of flowers and plants. Today we will talk about a special exotic flower, much appreciated for its rich fragrance: Frangipani.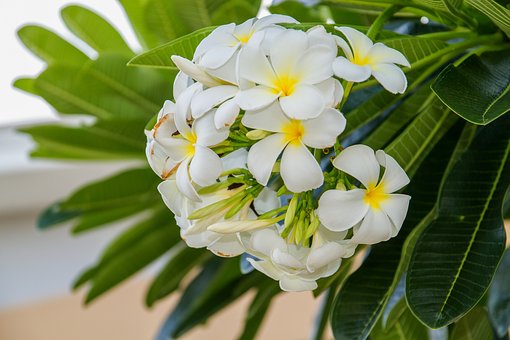 This plant is also popularly known as Plumeria or sacuanjoche. Many people associate these exotic tropical flowers to Hawaii as their birthplace due to the abundance of plants found on this island. However, it is not like that. It is a tree native to the Caribbean, Central America and Mexico. It can also be found in tropical and subtropical climates, becoming very common in Asia.
This plant has several names according to the country where it is found: in Guatemala nicte de monte, in Costa Rica cacalojoche; in Panama the caracucha and in Mexico cacaloxochilt. In Sicily, Italy is known as the flower of Palermo or Pomelia. For the inhabitants of Tahiti it is Tipanier and the Indonesians call it jepun. It is in China the Kang Nai Xin and Phool in India; Kalachuchi in the Philippines and Pansal Mal, in Sri Lanka.
The name of Frangipani was given to him because the smell of his flower reminded them of a fragrance created by the Marquis of Frangipani in the sixteenth century used to perfume gloves. The name of Plumeria is attributed to him by Charles Plumier, a seventeenth-century botanist, who described this plant and other tropical species. However, according to the author Peter Loewer was not the first to write about this tree. It had been described by the priest Francisco de Mendoza in 1522.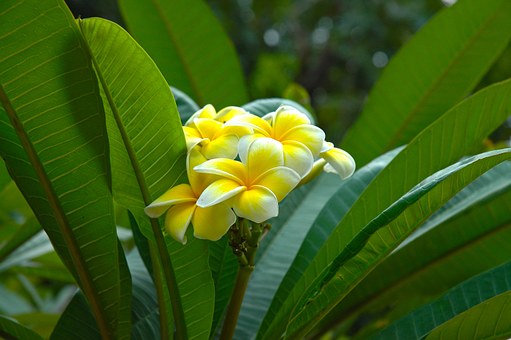 In France, at the Botanical Garden 'Le Jardin Naturel', they have been cultivating Frangipani since 1990. They currently have more than 150 different varieties planted.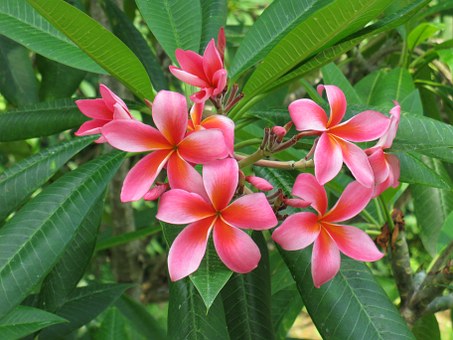 This tree is not large, it ranges between 4 and 6 meters in height. The bark is scaly and gray. The leaves fall during the winter. This plant needs a well-drained soil, with little water and exposed to the sun. It flowers from summer to autumn. If you make a cut on its stem comes a milky sticky sage, which is not edible. Its flowers have no nectar and their colors vary from white, pink, yellow and red. Its sweet fragrance is felt mainly at night. If you look closely at any of its flowers are the same, and from one plant to another can change the color of it.
The bouquets of flowers come out at the ends of the segments. From the base of the bouquet, three more segments usually leave.
Although this plant does not take much care, from time to time can fertilize it, using organic fertilizers rich in nitrogen, potassium (or potassium) and phosphorus, but not when they are without their leaves. Pruning should be done in late winter or early spring.
They use their aroma to attract moths to pollinate them, who seek nectar to feed. This plant can be reproduced through seeds or a cut. With seed propagation, it can take you up to three years or more before your plant blossoms, while with cut propagation it should flourish in the next year. In case you want to plant it in a pot, it should be large and have holes that guarantee good water drainage after each irrigation. When you already have the plant and it produces the pods in which you have the seeds, you must wait for it to dry and open to pick it up, otherwise the pod may die and it will not produce the seeds.
Properties and uses of frangipani
Plumeria has natural anti-aging properties. It is used in aromatherapy to calm and relax people. In addition, its perfume stimulates a sensual and provocative emotion. Currently it is frequently used in the cosmetics industry. From the plumeria flowers its essential oil is extracted, which has anti-inflammatory properties and relieves pains and ringing in the ears.
These flowers are commonly used to make garlands for special events such as birth and death, love and marriage, social, political, religious and on many other occasions in all parts of the world. In India, the bride and groom exchange wreaths made with the cream-colored Frangipani variety on the day of the wedding. They are also used for the treatment of itching and fevers. In Asia they are called Flower of the Temple.
They are also common in religious temples. However, in Thailand they are not found in homes, because they believe that it attracts bad luck and unhappiness. But in China, they have another meaning. In this country they are very scarce, and when the gifts show how special that person is. Muslims and Buddhists consider it a symbol of immortality, for its ability to procreate flowers and leaves constantly.
In Hawaii, it is the symbol of eternal life. The flower is related to love in feng shui. Some Mayan legends refer to the Sak-Nicté, as they called it in their language (may Flower), in stories linked to love and innocence. One of these stories is about a princess with the same name. According to the myths and legends about the flower, the Aztecs also attributed magical and medicinal powers to it. Some stories tell that they bathed newborns in the orange blossoms of Sacuanjoche.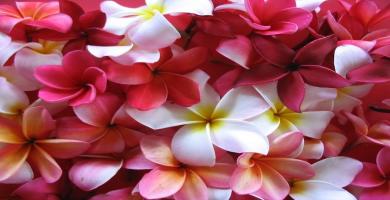 National Flower of Nicaragua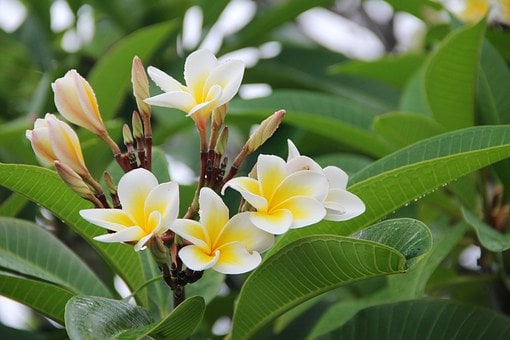 In Nicaragua, plumeria is known as Sacuanjoche or may Flower. It is officially one of the national symbols of the country. This name has its origin in the Aztec word divided in two: Sacuan, which means yellow and Xochitl, which means Flower. The variety of this flower that represents the country is the white with the yellow center. It is the image that appears on the bills of one, five, ten and twenty-five cents. The Sacuanjoche was decreed National Flower on August 27, 1971, in decree No. 1890, which is published in the Gazette, Official Gazette, No. 194.
The sacuanjoche appeared on the left side of the back of the 100 córdobas notes (the Nicaraguan currency), series C of 1972, as in the E and F series of 1979 and 1984 respectively.
National tree of Laos
The Sacuanjoche is the national tree of Laos and is considered sacred. In each Buddhist temple he has several copies in his yard, many of them hundreds of years old.
Here I leave some of the products that are made with this amazing flower. I hope you like them. Click on them to see more details.
Remember to like and share on your social networks if you liked this article. Leave us your comments here.